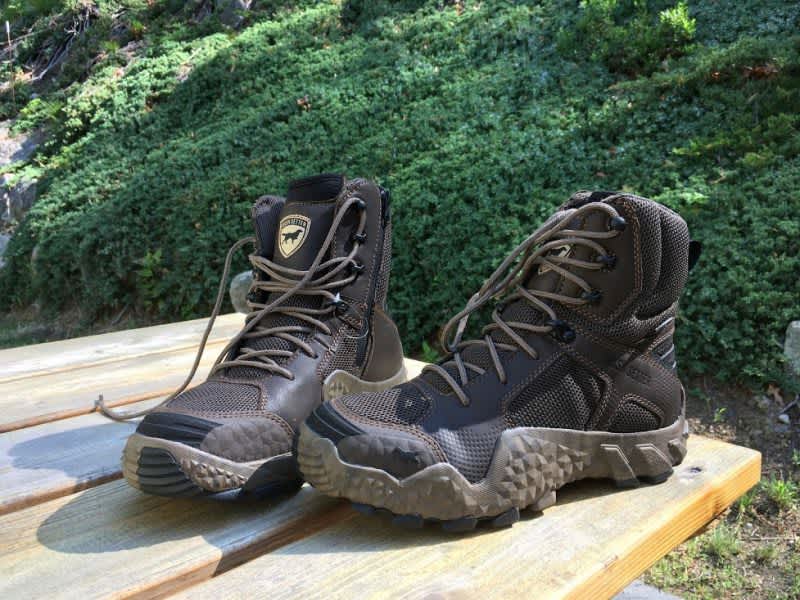 When do you say goodbye to well-loved boots and admit it's time to find a replacement? For me, it's when I find myself in Home Depot, shopping for construction-grade adhesives to keep my boots from falling apart. I'd worn my last pair of boots for many years and many more miles, but they'd become a patchwork of Superglue, Loctite Boot Goo, and fishing line.
When I got the chance to try out the VaprTrek™ men's 8-inch waterproof leather boot by Irish Setter, I decided it was finally time to let my old boots rest in peace and try something new.
The VaprTreks are a hunting-optimized boot that's engineered for movement — and boy can you move fast in these. If you're looking for a hunting boot that can also serve double duty as a running sneaker, keep reading; you'll like what you hear.
Here's a quick rundown of the boot's specifications, from Irishsetterboots.com: 
Height: 8-inch
Waterproofing: UltraDry™ Waterproofing System
Leather Type: Full Grain

Fabric / Material: Abrasion Resistant Mesh
Construction: Cement
Footbed: Removable Polyurethane with Memory Foam
Shank: Nylon
Insole: Non-woven
Outsole: RPM R-Zone – Brown Camo
Last: R100
Lining (Quarter): Mesh
Lining (Vamp): Mesh
The VaprTreks have a composite rubber sole and a nylon/leather upper. They're available in 13 different colors/styles for men and women, as well as different widths: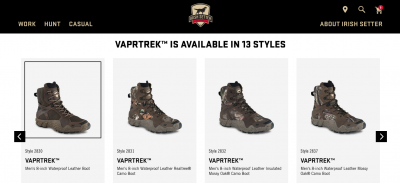 Neither the vendor product listings, nor the manufacturer info at Irish Setter mentioned that this boot has a zippered shank, so I was pleasantly surprised to find that in addition to speed and eyelet rivets and laces, it also sports ankle zippers.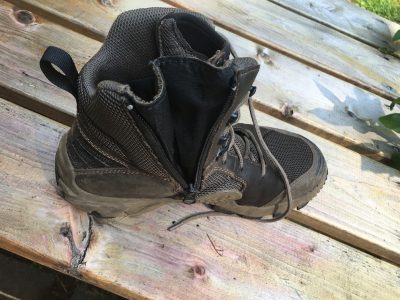 The zipper is great for quickly removing the boot without undoing the laces, but I was a little disappointed to discover that putting the boot back on can't be easily achieved with the zipper alone. This is due to the boot's shorter ankle height and overall snug fit (competing positives). Perhaps because I always lace my boots very tight, I was unable to put the boot back on without unlacing them, despite the side zipper.
Since I wasn't expecting a zipper, this was not a problem. I appreciate how the zippers allow you to quickly remove the boots. However, if you're planning to use this boot for any sort of fast response activity that involves putting boots on quickly, you won't necessarily save any time. I.e., don't wear this boot if you're an on-duty firefighter. But, if you were planning to do that, your fire chief probably needs to talk to you about your gear choices.
The VaprTreks incorporate six trademarked Irish Setter footwear technologies, as described in the Irish Setter product description. I got to experience these technologies while using my VaprTreks exclusively for outdoor activities over the past month. Here's the manufacturer's descriptions of these various innovations, along with my observations of how they translate into real life use:
ARMATEC™ XT
Many times more abrasion-resistant than ArmaTec™, this specially formulated new compound delivers an extremely durable layer of extra protection. Placement of ArmaTec™ in high wear areas helps preserve and lengthen the life of the boots.
It doesn't take much to scuff a shoe and transition it from that brand new/"I-can-wear-this-to-church" look to a well-worn/"suitable for the woods only" status. I admire any boot that can — with a little cleaning — go back to looking fresh enough to wear in public. Not that I recommend wearing your VaprTreks to church or on a date, but if you want to, at least nobody can complain that they look all scuffed up. Here's a side-by-side comparison of my VaprTreks the day I got them, and then after a month of hard use: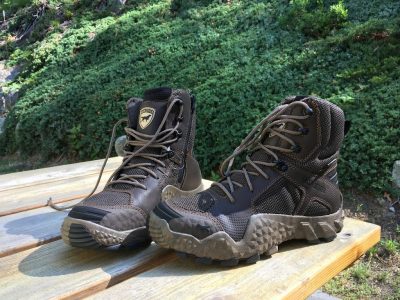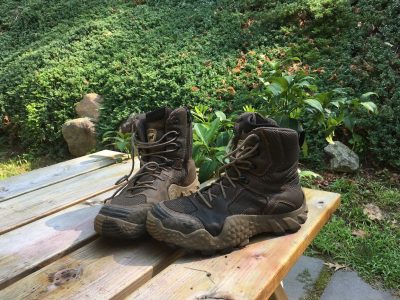 Look at how the weeds have flourished in the patio, indicating the passage of time. Also, look at how Armatec XT is doing it's job and keeping those boots sharp.
2. ENERG
Strategically placed high-rebound material brings high-end athletic shoe technology to more practical applications, delivering a recharging burst of energy with every step.
"Athletic shoe" is definitely a term I'd apply to the VaprTreks. I tried running in these and confirmed my theory that they can in fact work as a running shoe. If you find yourself needing to run on a hunt (chasing something? being chased?), you'll thank yourself if you're wearing VaprTreks instead of some old military surplus bunny boots. (I've also run in those. Would not recommend.)
I should also mention the grips on these boots: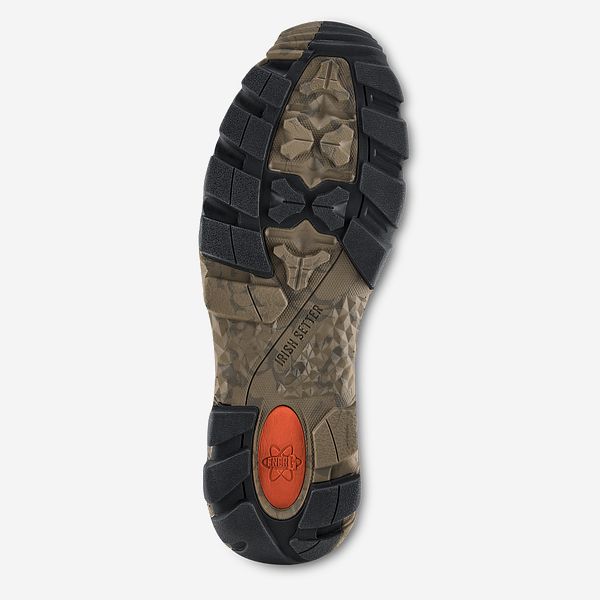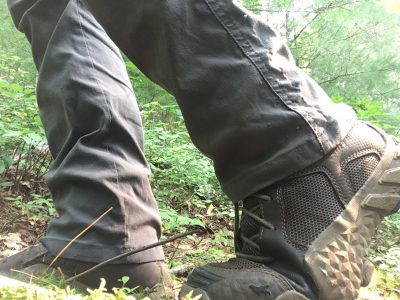 The VaprTreks have a very aggressive, traction-promising tread pattern which includes sharp texturing around the arch and the side of the foot. This would provide extra friction while scaling a ladder, ascending or descending a rope, or climbing a tree. Also, I find them cosmetically appealing — normal boots only have grips on the bottom; boots meant for action have grips all over!
3. RPM™
A breakthrough composite material that significantly reduces the weight of the boot, providing extreme comfort and added endurance. Engineered to provide the durability and strength of traditional materials without the extra weight.
I noticed this feature before I'd even taken the boots out of the package — when I was retrieving the box from the porch, I was amazed at how light it was for a pair of boots. Had they accidentally shipped me an empty box?
Not to worry, the boots were there. It seems the name "VaprTrek" has a double meaning; while the boots are intended to trap odors with their vapor barrier (Something about the "UltraDry™ waterproof/breathable technology" and "microbe-combating ScentBan™" treatments), they also feel "light as vapor" when wearing them. Again, they're edging their way into running sneaker territory. I envision using these when I go running in the winter and have to navigate streets of slush, or muddy, snow-covered trails.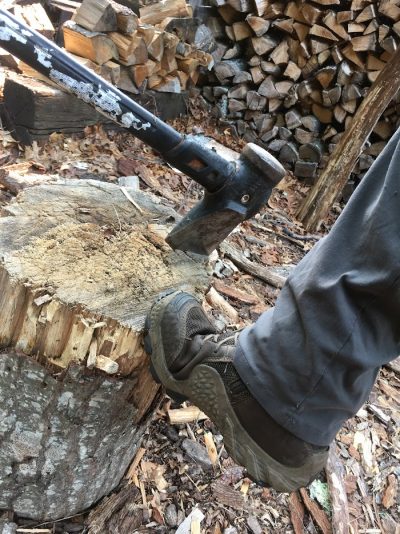 4. SCENTBAN™
An Irish Setter exclusive scent control process, ScentBan™ is added to various materials from leathers to linings to footbeds, killing bacteria that cause odors.
Let me first say that I'm not a certified aromachologist, so I can't claim to offer professional opinions here. I am, however, acquainted with smelly boots, and the effects these can have on your quality of life, and your relationships with household members. From my experience, there is NO footwear that can survive a prolonged walk through animal pens and their accompanying manure without acquiring a certain odorousness.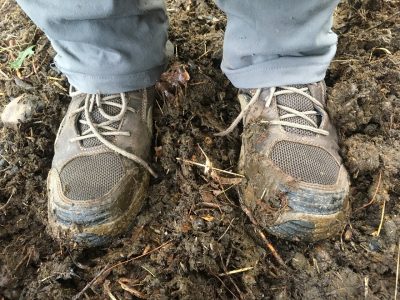 Then, who hasn't left their boots to dry on the porch, only to learn later that rain was in the forecast? I'm not saying this is what I did to my brand-new pair of VaprTreks, but let's just agree that what happened on the porch had to stay on the porch until the sun came out and made things right.
So, after the combination of a manure expedition and a rain-soaking, my VaprTrek boots did have a definitive smell, and it was not that fresh leather, new-shoe scent. However, this is where the science came in. I expected I'd need to fully wash them to remove the odor, but the boots did the work. After a day of simply letting them air out, the odor was gone, and I could bring them back inside without triggering a wellness check from concerned neighbors. No detergent, no deodorizing spray, nothing. The VaprTreks self-exorcized the odor, using whatever magic the aromachologists over at Irish Setter are perfecting these days.
This will be a big advantage come deer season, as feet are one of the primary producers of buck-spooking scents.
5. ULTRADRY™ WATERPROOF
Our UltraDry™ construction combines a moisture management lining with waterproof components for dry, long-lasting comfort and performance.
The VaprTreks will keep your feet dry while operating in moderate wetland environments, including wet grass, marshy ground, and a few dips crossing creeks. However, I would not recommend submerging them completely. In my experience, anything less than full-rubber construction will eventually let water in, and the VaprTreks didn't convince me otherwise. I'd revise the VaprTrek description to say they are "highly water resistant," and this isn't a deal breaker for me — I've yet to find any non-rubber boot that is completely impervious to water. For moderate activity in damp environments, the VaprTreks will do, but don't expect to go wading and not get wet. Like Tom Petty said, wading is the hardest part.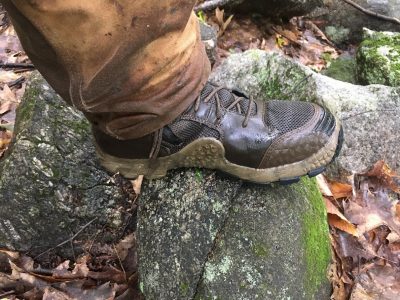 6. CUSHIN™
CuShin™ Comfort tongue technology was designed to minimize pressure some feel on their shin from the top of the boot tongue. A four-way stretch nylon offers relief and flexibility while walking, and an internal padded waffle mesh maintains premium comfort.
I can't stress enough how comfortable these boots are. Again, they feel like wearing a sneaker. I had planned some break-in activities for the boots before the first long use, but this proved to be completely unnecessary. The boots required no break in — they were as comfortable on day 1 as they were on day 14, and I experienced none of the blisters or stiff ankles normally associated with a new pair of boots.  They felt like a familiar shoe after minutes, so  whatever science is going into their comfort standards is working.
In the past month, I've worn my VaprTreks for hiking, farm work, splitting firewood, scouting hunting property, landscaping, home improvement projects, and the inevitable accompanying Home Depot runs. I'm confident they'll be ready to go with the rest of my hunting gear in September when fall archery season begins, and I look forward to taking them into the field with me.
But these boots won't stay in my closet waiting for deer season to begin; they're quickly becoming an every-day pair.