The old adage for riflescopes has long been, "spend at least as much on your glass as you did your rifle." There was a time when that was true, and in many instances you still can, but the options for finding quality scopes for your rifle have never been better. No matter how you use your rifle and scope you can find good options on almost any budget. But with all of those options how do you choose the right one? It's going to come down to how you plan to use your rifle, and what you want to prioritize. That said, here are some great options to consider the next time you are shopping for the best riflescopes.
Table of Contents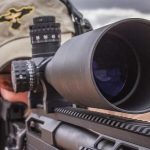 Avoid a common mistake when buying a scope
A big consideration when buying a scope, especially for hunting, is low-light performance. Too often though, hunters are disappointed with how their scope performs when light conditions aren't optimal. In many cases, the choice the hunter made when selecting their scope was the problem. To be sure your scope will perform well when light isn't great, try to choose a scope that offers an exit pupil no smaller than 4mm throughout the magnification range.
Sighting in a scope
My advice to anyone sighting in a new rifle and scope combo is always the same, put the bore sighter away. It reinforces some bad habits that can cause issues down the road. Mount your scope and take a shot at 25 yards. You should be within three or four inches of your point of aim, if you aren't, don't adjust anything. Unmount that scope and remount it. You should be at least that close with a new scope, if you aren't there is probably a mounting issue. Using the adjustment to bring it on target further down range is going to require more adjustment than I recommend. My rule of thumb? Never adjust more than one full revolution on either your windage or elevation turret. This will keep you in the center of the optical system and deliver the best performance over time.
Exit pupil and how you calculate it
Exit pupil is the column of light that is delivered to your eye from the scope. To calculate it, divide the objective lens diameter by the magnification setting on the scope. For instance, on a 3-9×40 scope set on 9X, it would be 40/9=4.44. Why is the 3-9×40 so popular as a hunting scope, because that exit pupil stays well above 4mm throughout the entire magnification range. As your magnification decreases, your exit pupil goes up. If your highest magnification delivers an exit pupil 4mm or larger, you should be in good shape.
What does LPVO mean?
The term LPVO has grown in popularity over the last few years and stands for low power variable optic. That means a scope that at the low end of the magnification range, goes to 1X or 1.5X magnification.
We are committed to finding, researching, and recommending the best products. We earn commissions from purchases you make using the retail links in our product reviews. Learn more about how this works.