Cover Photo – Shutterstock/Danielsen
Winter is here and the lakes and ponds are starting to look less like water and more like skating rinks. That means it is almost time to hit the hard water and do some ice fishing. For those of us who frequently fish the ice, we're most likely already geared up and just waiting for safe ice, but there are many who are thinking of giving it a try for the first time. I remember my first time gearing up to go. Trying to figure out exactly what I needed was tricky. Luckily I had a few folks who helped me pick the right equipment. Here is a beginner's guide to the basic ice fishing gear you need.
One basic rule that everyone should follow, but for beginning ice anglers, this needs to be stated clearly. Be very aware of the ice thickness before attempting to head out. According to the Minnesota Department of Natural Resources, you should follow this basic guideline for ice thickness.
UNDER 4″ – STAY OFF
4″ – Ice fishing or other activities on foot
5″ – 7″ – Snowmobile or ATV
8″ – 12″ – Car or small pickup
12″ – 15″ – Medium truck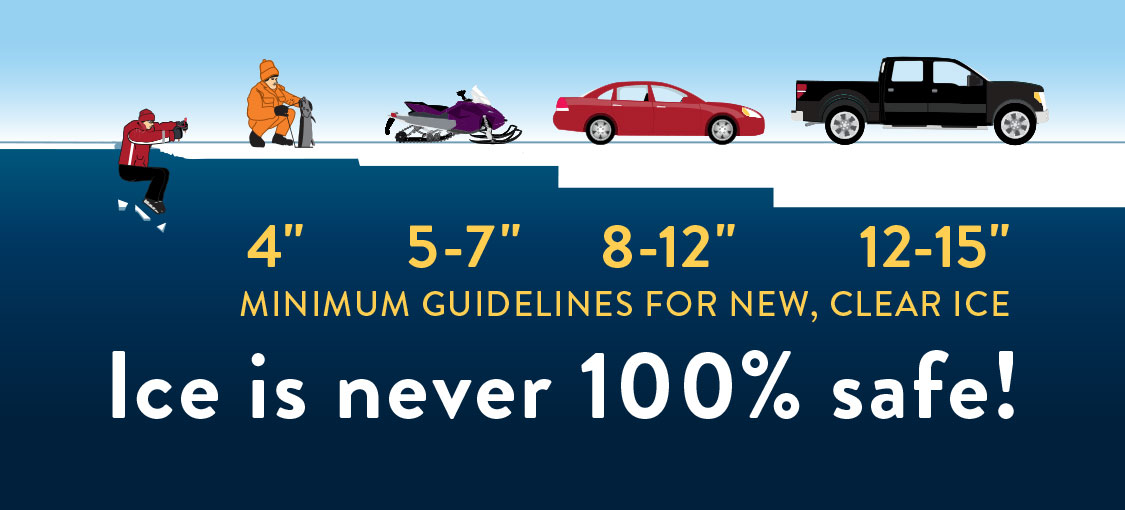 Table of Contents

A Note on Ice Etiquette
There are a couple of things to keep in mind with regards to etiquette. Some anglers will watch the other anglers around them, and if they see someone pulling in a lot of fish, they might try to move closer to them. It's ok to move, but don't crowd someone in. That's lame. I might go over and ask them what they are using, because maybe it's something I'm not, but I'm not going to try to horn in on a guy's spot.
And if someone is nice to you, return the favor. If they tip you off to a good spot, and you get on the fish, go and invite them to join you. Karma is a good thing to keep on your side when you're standing on the ice. A few years ago, I got onto a school of perch thanks to a tip I got on the way out onto the lake. I went and got the guy and we both ended up with our limit. I still get text messages from that guy about good fishing and we've met up for some great fishing trips. It all pays off in the end, folks!
Finding fish under the ice
If you're new to fishing the hard water, there are a few ways to help yourself have better luck when you start out. If you don't know the lake, see if there is a map of the lake bottom contours that you can use. This will show you depth, ridges, depressions and other spots that can help hold fish. Some species become lethargic in cold water and all fish species will work to use the least amount of energy possible. Ask local bait shops what is working and where people are having the best luck. Now, chances are, you're not going to get the owner's best spots, but you'll likely get some good ideas as to where to start. That's not true for all bait shops, as a shop on two of my favorite lakes will give you the straight up best spots to go and when to go there. These are the best type of businesses, and I'd be sure to give them as much help as they gave you.
Another great way to get an idea where to go is to simply follow the crowds. If you see a lot of folks in one area, that is usually a good giveaway that there are fish there. Don't be afraid to move around and fan out. If you have a flasher, it will be worth its weight in gold when it comes to getting on the fish.
When is the best time to go ice fishing?
Many of us know that the first couple hours of daylight and the last couple, including the dark times before and after, will be your best bets for catching fish. The same goes for fishing on the ice. We also know that changes in barometric pressure, like right before a weather system moves in, can be great times to get some bites. It is a mistake to think that it doesn't affect lakes that are froze over, though. It makes a huge difference. Drill a hole through the ice and watch the water. Pressure on top of the ice affects the water underneath in a big way. And any pressure that affects the water will affect the fish swimming in it.
Now, first ice of the year has a way of making fish strap on the feed bag, and the fishing can be fantastic. That also means it's the thinnest ice. I'll pass, thanks. I like thicker ice to fish on. However, you need to keep track of what's going on under the ice. Oxygen levels in the water affect how the water sits, and there is a think called turnover, which impacts where the most oxygen is in the water. The thing is, some lakes can have a severe oxygen depletion in winter, as the plant life isn't producing anymore. In fact, plant decay from winter die-off can pull oxygen out of the water and in turn, kill the fish. This sort of thing comes late in the season, and is a good reason to call for lake and fishing conditions before you go.
Where can I go ice fishing?
Any lake with thick enough ice should be good, as most lakes hold some fish species.  It's always a good idea to ask around if you're not sure. Social media and local bait and tackle shops are good bets.
We are committed to finding, researching, and recommending the best products. We earn commissions from purchases you make using the retail links in our product reviews. Learn more about how this works.